3rd Annual Lone Star Warriors Outdoors Golf Classic
Midland Texas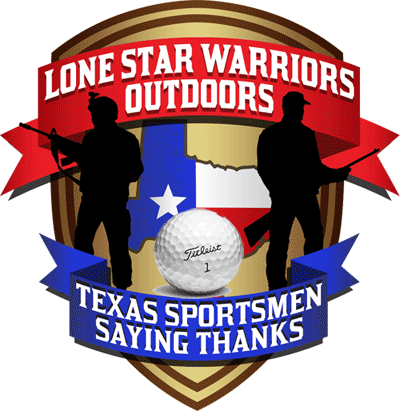 Benefitting Lone Star Warriors Outdoors, a 501 (c) 3
non-profit organization

4 man scramble (All Day Event)
$400 per team


Hogan Park Golf Course, Midland, Texas
August 20, 2016


Registration starting at 7:00 and 12:30; Shot-gun start at 8:00 and 1:30
Lunch and Dinner at the pavilion after the tournament


**ALL DONATIONS WILL RECEIVE A CHARITABLE LETTER FOR TAX PURPOSES**


Sponsorship Opportunities:


Platinum Sponsorship: $2,500 (Limited to 8 spots): Includes tournament entry fee for 3 golfers of your choice, plus your group will have the opportunity to golf with a wounded warrior, beverages, 3 raffle tickets per person, recognition on tournament banner, tee box sign, and sponsors a wounded warrior with a custom set of Titleist Golf clubs.


Gold Sponsorship: $700 (Unlimited Sponship): Includes team entry, 2 tee box signs and recognition on tournament banner.


Tee Box Sponsorship: $500 (Unlimited Sposorship): Includes a tee box sign.
We are also looking for hat, shirt and golf ball sponsors. Please contact Ryan Hayes for more information.


Shirt Sponsor: $1800: Includes a team entry, tee box sign, and recognition on tournament banners.
*We are looking for a food sponsor for the golf tournament; please contact Ryan Hayes (information listed below) if you are interested.*
For more information, please download the Sponsor information and registration by clicking this link.



I wanted to thank y'all for the hunt last weekend. I had such a great time and it really meant a lot. The family at the ranch really made me feel at home and even more made me feel like part of the family. This trip was more than just a hunt for me, I have made friends for a lifetime. This has truly been an experience I will never forget. I can't say thank you enough Lone Star Warriors Outdoors for everything y'all did. And thank you for what you are doing for the wounded veterans like myself. Keep up the outstanding work
Michael Tager – U.S.M.C
Links
Sponsor Links
Like Us